P7 High Jump Competition
18th Jun 2015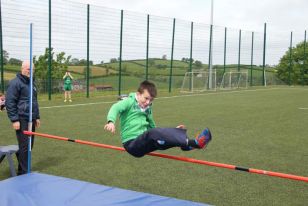 On Thursday 18th June P7 pupils took part in our annual high jump competition. With the elusive 1metre 15cm record still intact many were confident that they might emerge triumphant. The competition was extremely tight however in the end Shannon Maguire Comfortably cleared 1metre 10 centimetres when others were struggling.
Shannon pushed on and then cleared a height 1metre 15centimetres equalling the school record. The atmosphere was electric as Shannon then attempted 1metre 17centimetres which she cleared on her second attempt.
Shannon is now the St. Joseph's PS High Jump record holder.
St Joseph's PS, 50 Fernaloy Rd, Madden, Co Armagh BT60 3LR | Phone: 028 37531890 | eMail: ploughran734@c2kni.net