Programming microbots and smart technologies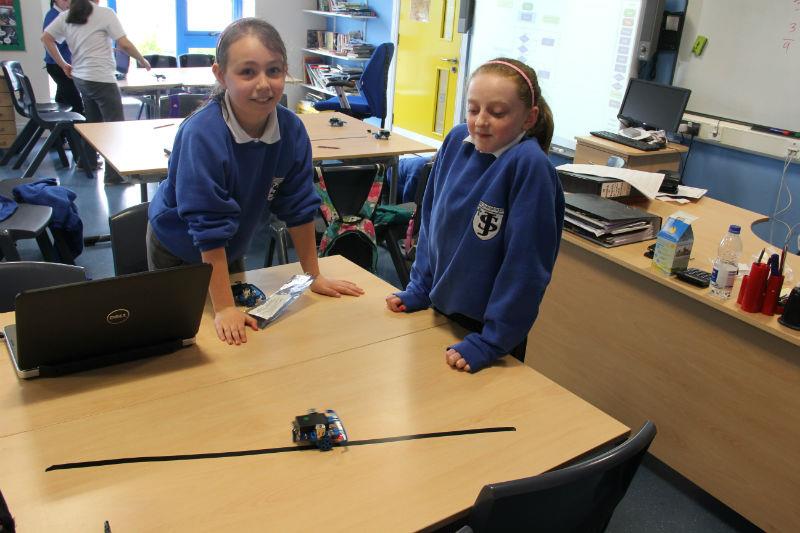 Programming microbots and smart technologies
Programming microbots and smart technologies
Programming microbots and smart technologies
Programming microbots and smart technologies
Programming microbots and smart technologies
Programming microbots and smart technologies
Programming microbots and smart technologies
Programming microbots and smart technologies
Programming microbots and smart technologies
Traditional Day celebrations 2014
Christmas Art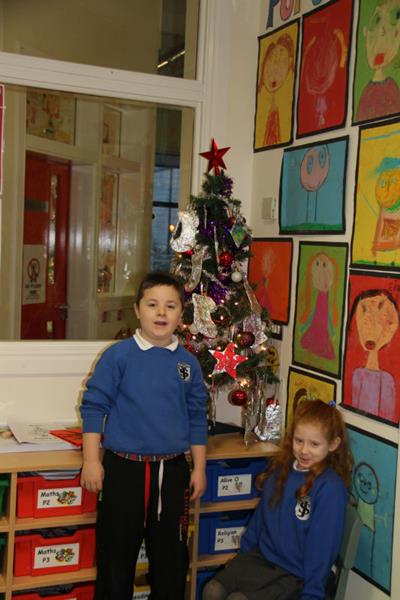 Christmas Art
Christmas Art
Christmas Art
Christmas Art
Christmas Art
Christmas Art
Christmas Art
Christmas Art
Christmas Art
Christmas Art
Christmas Art
Christmas Art
Christmas Art
Christmas Art
Christmas Art
Christmas Art
Christmas Art
Christmas Art
Christmas Art
Christmas Art
World Book Day - Harlem Shake
Robotics Day
I rushed on to the bus excited to see what would await me in St Patrick's High School in Keady. Our class were going to take part in the Robotics Exhibition.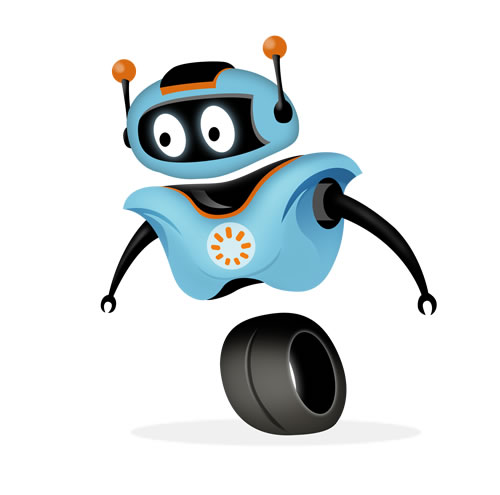 We rushed into the colossal school. When we entered the main building I saw lots of fantastic stuff like a huge library and an elevator. We shuffled down the corridor anxious to see what we would have to do for the day.
Inside the room a man called James decided to put us into partners with children from the primary school in Middletown. I was paired with a boy called Nathan. We sat down and James explained that we had to control a little robot by typing information into a computer. This was quite difficult as a lot of thinking was involved.
After we had entered all the sumobots information we downloaded this into the robot. We started the robot by turning the switch to number two and away he went.......I couldn't believe we had made our robot move.
After working so hard all morning we were well ready for our lunch break. We were amazed by how brilliant the cafeteria was and the choices you had for dinner.....It was like McDonald's!! During lunch we saw former members of our school and I even saw one of my cousins!
We were looking forward to getting back to work and leading our robots through a tricky track. Each group had a chance to figure out the angles of the turns and then we had a competition to see who could guide their robot through the track with the best accuracy.
I thought Nathan and I could have done better as our robot only moved 25cms and only made one turn but I enjoyed the experience.
The winners of the tournament were Ryan Mone and his partner. Their robot moved 100cm and even done a celebration dance at the end.
I really enjoyed this exhibition and can't wait to go to Keady High School in two years time!
Danny McElvanna
............................................................................................................
As we all hopped on to the bus our hearts were racing. Nervously the P6 and P7 class entered the gigantic school. When we got into the school Mr Hart escorted us in to a huge hall. There we met a man called James. He was talking about how to operate robots. In the middle of explaining to us, a group of 6th years came in. After James had explained, Caoimhe, Ellie and I zoomed to the laptops. We typed in the message that James had told us to and we wrote for our own message "hello".
After we had typed in all information we had to give our robots directions for the race. We gave it directions but it kept on going off the road! Sarah Louise from St Patrick's High School helped us with our robot. Finally we got it... Well at least I think we did!
Now it was the moment of truth. Our robot was number 4. "Number 9, 8, 7, 6, 5 and 4" called James. Gently we set our robot on the mat. Ellie switched it on, and off it went. It went perfect the first turn, and perfect on the second, but on the third, it started to go off track. Oh noooooo. But at least we got into the final. Sadly Ryan Mone's robot won. Still we left with our heads up high.
By Shannon Morgan.
St. Joseph's PS Open Night
On Wednesday 7th December, St Joseph's Madden held their open night for the new school. Adults and children both attended this amazing event. Finally the 1.5 million pound school was open.
Excitedly I rushed into the school and could not wait to explore. I met up with my friends and then started our tour. My favourite things were the hall, the interactive whiteboards and the P1's fish tank. When using the interactive whiteboard, love how it moves up and down plus its touch screen! The gigantic, Fermanagh coloured hall really stands out and the cooks will also enjoy their shiny new kitchen.
Unfortunately we had to go home, though Man UTD got beat 2-1 by Basel which ended a wonderful evening. HA HA Mr Hart!
By Daire Tohill (Primary 7)
------------------------------------------------------------------------------------------------
On 7th December all in St Joseph's Primary School prepared for the official opening of their brand new £1.5 million school. Eventually the evening came. Full
Of excitement people gathered to explore and view the tremendous sights. The interactive white boards were amazing .They move up and down with a vibration sound and are touch sensitive.
Extremely excited my friends and I began to explore the hall. "It is three times the size of our old hall" explained Mr Lougharan. Mrs Burke's aquarium is humungous there are 8 tiny fish in it with 8 more coming next week. The toilets are gleaming and the kitchen is huge. We will all love life in our new school
By Shea Moore
Congratulations Jane and Daire!
Poems written by P7 pupils Jane Gray and Daire Grimley which were selected as winning entries in the Navan Fort poetry competition:

1… 2… 3…4
I peek out from under my blanket.
My china doll stares at me,
Her mouth open as if
She should tell.
5… 6… 7… 8… 9…10
She'll be here soon.
I huddle under the
Blankets.
Then there is sudden
Daylight…
"Found you Sarah"
Game over!
By Jane Gray
---------------------------------------------------------------------------------------
The Tower War
I look my opponent in the eye,
I really want to win,
I have played the man so many times,
And never beaten him,
The Jenga tower stands tall and strong,
He has no chance of knocking it,
Oh, there he goes,
Out slips the first brick.
So now it's my turn,
I must choose well,
Aha! I've found a brick,
So I just push it, nice and easy,
It came out with one last hit!
My opponent now looks dumbstruck,
He doesn't know what to do,
He shakes his head in shame,
To him, losing is new.
He pushes at a certain brick,
Oh no! It has slipped out!
But, wait look at the tower,
Watch it sway about!
And soon enough,
It all fell down,
My opponent's hopes to win are drowned!
By Dáire Grimley
P5 & P6 World Around Us work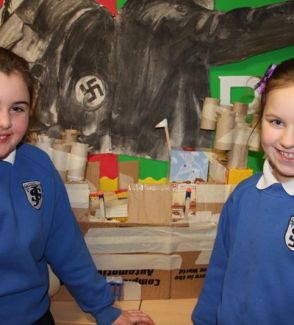 P6 World Around Us Work
P6 World Around Us work
P6 World Around Us work
P6 World Around Us Work
P6 World Around Us work
P6 World Around Us Work
P6 World Around Us Work
P6 World Around Us Work
P6 World Around Us work
P6 World Around Us work
P6 World Around Us work
P6 World Around Us work
P6 World Around Us work
P6 World Around Us Work
P6 World Around Us work
P6 World Around Us Work
Primary 6 & 7 IPAD movie project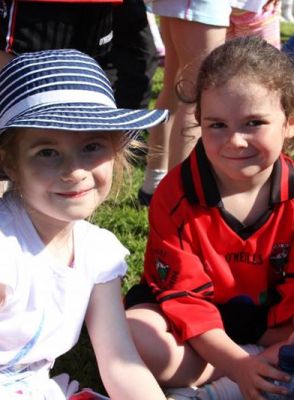 Sponsored Walk
Sponsored Walk
football
camogie
football
school jerseys
camogie
Morgans
Funland
P1 & P2 visit Santa
Harri at the Navan Centre
Awards
Pupils making snowman
Camogie
football
football
Carol Service
Flowers
New build
GAA
pupils dancing
play area
Pupils in new school
New school
football Team
St Joseph's PS, 50 Fernaloy Rd, Madden, Co Armagh BT60 3LR | Phone: 028 37531890 | eMail: ploughran734@c2kni.net